MD/PhD Program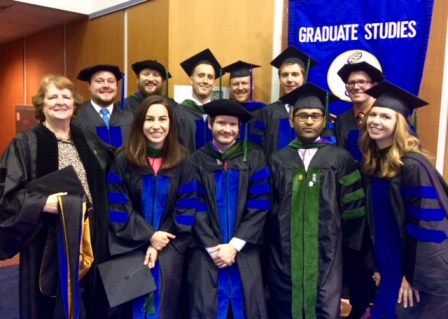 The MD/PhD Program at LSU Health Sciences Center at New Orleans is designed to fulfill the educational requirements of highly focused students who wish to pursue careers in academic medicine. Any student who enjoyed a previous research experience should consider this program. During their course of study, students will pursue the medical curriculum for two years, spend three to four years as graduate students acquiring the PhD, and finally spend two years completing medical school for the MD degree. During the first two years of medical school, students begin to select a specific area of research interest. During the summer between the first and second year of medical school, student research is supported through the Medical Student Summer Research Fellowship Program. Selection of a mentor and graduate program is normally completed during the second year. Students will generally begin their graduate work immediately following the second year of Medical School.
The American Association of Medical Colleges has developed a website, which allows prospective applicants to explore this career option.
Application and Admission Requirements
MD/PhD applicants must be accepted into the MD program before being considered for the combined degree. The MD admission requirements can be found here. Qualified applicants who have been accepted by the Medical School will be invited to apply for acceptance into the MD/PhD Program. Applicants will be interviewed by the MD/PhD committee. Criteria for Admission Consideration are as follows.
Prior research experience

Grade point average of at least 3.5 on a 4-point scale

MCAT scores ≥ 507
Students must maintain a "B" average, or the equivalent, in Graduate School and in Medical School to remain in good standing in the program. If a student withdraws from either the MD or PhD portion of the program, the student will transfer all appropriate credits to his/her program of choice.
Please Note: The Deadline to apply for the MD/PhD Program through AMCAS is November 1st; The Secondary Application and letters of recommendation must be completed by December 1st. Applicants are encouraged to complete their applications as early as possible in order to be considered for an interview for the School of Medicine. MD/PhD applicants must be interviewed by the School of Medicine Admissions Committee by the end of February in order to be considered for an interview in early March by the Ph.D. Sub-committee.
Financial Support
Participants in the MD/PhD program will be provided tuition credits for their entire course of study. Stipends will be provided while in the School of Graduate Studies and during their third and fourth years of medical school. During the graduate portion of the program, students are encouraged to apply for their own academic and research support. The cost of the tuition credits must be repaid if a student leaves the MD/PhD Program. This will permit another student in the program to become fully funded.
Program
The program consists of four years of Medical School and three to four years of Graduate Studies in the following areas:
Biochemistry & Molecular Biology
Interim Head, Peter Winsauer, PhD

Cell Biology and Anatomy
Head, Carmen Canavier, PhD

Human Genetics
Head, Lucio Miele, PhD

Microbiology, Immunology & Parasitology
Head, Alistair Ramsay, PhD

Pharmacology & Experimental Therapeutics
Kurt Varner, PhD

Physiology
Head, Patricia Molina, MD, PhD

Neuroscience Program
Director, Nicolas Bazan, MD, PhD

MD/PhD PROGRAM DIRECTOR
Angela Amedee, PhD
aamede@lsuhsc.edu