Graduate Research Day 2011
About 50 graduate students and post-docs at LSU Health Science Center New Orleans presented their research projects today at the 25th Annual LSUHSC Graduate Research Day. The event, held at the LSUHSC school of Dentistry, featured both oral and poster presentations. Research findings included evidence that inhaled particulate matter produces inflammation and oxidative stress as well as a decrease in cardiac function in healthy individuals, the identification of the Epstein –Barr Virus as a possible biomarker for a precursor to cervical cancer, and a potential new target to treat colorectal cancer.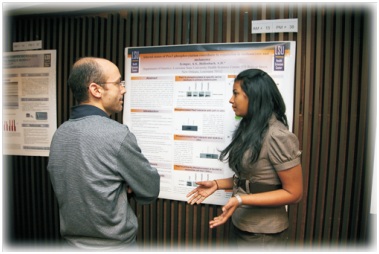 Postdoctoral award winners were Abhilash Ponnath in Neuroscience and Virginia Ronchi in Biochemistry. Graduate Student Poster Awards went to Sherin Hashem (Biochemistry), Jiwon Park (Pharmacology), and Monica Ertel (Pharmacology). Graduate Student Oral Presentation awardees are Kavaljit Chhabra (Pharmacology), Anni Whitaker (Physiology), and Sarah Mahne (Pharmacology).
Additionally, graduate Dr. Courtney Parke was awarded the 2011 Graduate Chancellor's Award during the award presentations at the close of this year's Research Day. The Chancellor's Award winner is chosen based upon research performance as demonstrated by the quality of the dissertation and related research accomplishments while a student in the School of Graduate Studies. It is presented annually to a single graduate and entails a cash prize of $500 and an honorary plaque.
Congratulations to our faculty, students, post-docs and staff on a most successful day.